Indian Society for Technical Education (ISTE)
The Indian Society for Technical Education (ISTE) is the leading National Professional non-profit making Society for the Technical Education System in our country with the motto of Career Development of Teachers and Personality Development of Students and overall development of our Technical Education System.
The major objective of the ISTE is to provide quality training programmes to students, teachers and administrators of technical institutions to update their knowledge and skills in their fields of activity and to assist and contribute in the production and development of top quality professional engineers and technicians needed by the industry and other organisations.
In view of above, at S. R. Engineering College ISTE Local Chapter (AP-81) Institution chapter (IM-1136) and Student Chapter (AP-86) has been established in the year 2004.
The present statistics of the ISTE chapter at SREC is
ISTE Staff Advisor: Sri. A. V. V. Sudhakar, Associate Professor, Dept. of EEE.
| S.No. | Type of Membership | Total Number |
| --- | --- | --- |
| 1 | Life Membership | 41 |
| 2 | Student Membership | 69 |
IEEE SREC SB
S. No
Academic Year
Type / Name of the Event
Resource Person
Date
No. of participants
1
2017-18
Guest Lecture on Power panel Design, Operation and Maintenance
Mr. M. Ravindra Chary, Technical Consultant & MD, Switchgear Technologies, Hyderabad
15.09.2017
74 students IV B. Tech
2
2017-18
Demonstration of Microcontroller based and Numerical relays
Mr. K. Rama Mohanarao, Asst. Manager, L&T Electrical Automation, Hyderabad
15.09.2017
74 students IV B. Tech
3
2017-18
Guest Lecture on Basic Concepts of Electrical Power Engineering
Mr. Hariji Jatoth, DE, National Power Training Institute, Mulugu Road, Warangal
30.08.2017
67 III B. Tech EEE students
4
2017-18
Industrial Visit to Electric Loco Shed, Kazipet
-
26.08.2017
49 students
5
2016-17
Special Talk on Industrial Automation
NC Srinivas
01.03.2017
98 students
6
2016-17
Industrial Visit to BPL, ITC, Sarapaka
-
25.02.2017
52 students
7
2016-17
Industrial Visit to KTPS, Paloncha
-
25.02.2017
52 students
8
2016-17
Industrial Visit to Transformer Repair Shop, Mulugu Road, Warangal
-
15.02.2017
35 students
9
2016-17
A one day workshop on Hands on experience using NI LabView for Lab applications in Electrical Engineering
Dr. J. Praveen, prof. & Head & ,Prof. V. Vijaya Rama Raju, Gokaraju Rangaraju Institute of Engineering and Technology, Hyderabad
2nd Oct. 2016
EEE Faculty
10
2016-17
A Two day STTP on NI LabView and Its applications
Mr. S. Charles, Senior Field Application Engineer, Embedded System Solution Pvt. Ltd, Bangalore
16th & 17th Sep. 2016
EEE Faculty
11
2016-17
Industrial Visit to Electric Loco Shed, Kazipet
-
03.08.2016
30 students
12
2015-16
Industrial Visit to Access solar power plant, Hyderabad
-
19.03.2016
25 Students
13
2015-16
Guest Lecture on Maintenance of Power Transformers
Mr. Raju Naik, ADE, CTPI, Hyderabad
08.02.2016
68 students,9 Faculty
14
2015-16
Expert lecture on "Role of Power Electronics In industrial Drives"
Mr. Gadadasu. Raju, Asst. manager, R&D, Medha Servo Systems, Hyderabad
09Sept. 2015.
56 students,12 Faculty
15
2014-15
Industrial visit to 220/132 kV Mulugu road substation
-
25-2-2015
39 students,3 Faculty
16
2014-15
Seminar on "Energy Conservation For National Growth"
Mr. Somana Ganapathy Retd. S.E AP Transco & former Prof. NIT, Jamshedpur.
24 Sept. 2014
60 Students
17
2014-15
Faculty training on "Blackboard Learn Software"
Mr. Abu Osman, Scalable IT solutions, Hyderabad.
6- 7 June 2014
28 Faculty
18
2014-15
Seminar on "Power Quality Concern And Standards"
Dr. C. Venkatesh, Prof. and HOD, EEE Dept.
25th June 2014
26 students
19
2014-15
Seminar on "Power System Deregulation"
Sri AVV Sudhakar,Assoc. Prof., EEE Department.
1st July 2014,
42 students, 7 Faculty
20
2014-15
Project Exhibition "AVISHKAR 2014"
-
7th August 2014
145 students
21
2013-14
Invited Lecture by on the occasion of Engineers Day
Prof. M. Sydulu, Dept. of Electrical Engineering, NIT, Warangal
15th September 2013
84 students, 16 Faculty
22
2013-14
One day Faculty Development Program on "Outcomes Based Engineering Education for Enhanced Employability "
Prof. PG Sastry, Director,Ramky group, Hyderabad
6th October 2013
86 Faculty
23
2013-14
A special talk on "Carrier Opportunities for Engineering Graduates"
Mr. D. Rakesh, Director, Abyaas, Warangal
22nd August 2013
59 students
24
2012-13
One day workshop on "Innovative Teaching Methodology"
Dr. Sridhar Condoor, Saint Louis University, USA
25th July 2012
37 Faculty
25
2012-13
Two day workshop on "Research Orientation"
Dr. Muthuswamy Bharadwaj, University of California, USA
13-14 August 2012
50 Faculty
26
2012-13
A special talk on "Fundamentals of Solar Energy"
Mr. V.Sriphani, CEO, YesSv Solar Energy , Hydearabad
13th September 2012
43 Students
27
2012-13
One day workshop "power Quality issues"
Dr.K.Chandram, Asst. Professor, BITS Pilani Goa Campus, Goa
28th January 2013
35 Students
28
2011-12
TECHNOTRENDZ '12 : One day National level Technical Symposium
-
30- 31Mar., 2012
128 students
29
2011-12
A Special talk on PV Technology
Sri. S.V.Vijay,Senior Manager, Solar Semiconductor Pvt Ltd, Hyderabad
06/03/2012
67 Students
30
2011-12
One-day workshop on "MATLAB-Simulink and its Application in Electrical Engineering"
Mr. C. Venkatesh, Assoc. Prof., Dept. of EEE
9th Dec., 2011
35 Students
31
2010-11
Special lecture on "Technical Paper Format and Presentation Tips"
Mr. C. Venkatesh, Assoc. Prof.,Dept. of EEE
03rd Mar., 2011
29 Students
32
2010-11
A Special talk on AC/DC Power Transmission
S. Ratna Kumar, Asst. Professor, GIET, Hyderabad
13/10/2010
35 Students
33
2010-11
ELECTROSPARX '11 : One day National level Technical Symposium
-
20th Mar., 2011
192 Students
34
2010-11
Expert lecture on "Applications of Electric Motors in Robots"
Sri P. Venugopal Rao, Head, Dept. of EEE, SREC
16th October 2010
55 students.
35
2010-11
One-day Seminar on "Patent Based Projects"
Prof. C. Kameshwar Rao, SNIST, Hyderabad
12th May 2011
38 Students
36
2010-11
Innovative Ideas for young Engineers to pursue their project works
Dr. P. Ravi Kumar NIT, Warangal
01/10/2010
56 Students
37
2010-11
Engineers Day Celebrations
Prof. DVLN Somayajulu, HOD, CSE, NIT, Warangal
15/09/2010
38
2009-10
An Overview of Research and Innovation
Dr. P. Venkateswarlu
Dr. V.Mahesh,Dr. G.V. Praveen,Dr. Ramana Murthy, NIT, Warangal
01/05/2010
39
2009-10
ELECTROSPARX '10 : Two day National level Technical Symposium
-
27 - 28 March, 2010
130
40
2009-10
Expert lecture on "Signal Conditioning"
Sri Sd. Musthak, Head, Dept. of ECE, SREC
7th August 2009
IV year students.
41
2009-10
Faraday's Memorial Lecture on "Power System Deregulation and its Benefits"
Ch. Narasimha Reddy, Chairman & MD, NPDCL, Warangal
22nd September 2009
II year and IV year students
42
2008-09
One Day seminar on "Importance of Engineering Graphics in Various Disciplines"
P. Sammaiah, Asst. Professor, Dept. of ME, SR Engineering College, Warangal
10th November 2008
125
43
2008-09
One day Seminar on "Importance of Fluid Mechanics and Hydraulic Machines"
Dr. V. Mahesh, HOD, Mech. Engg. Dept.
6th Jan., 2009
151
44
2008-09
TECHNOTRENDZ - 2009: A National Level Technical Symposium
-
13th March, 2009
117
45
2008-09
Expert lecture on "Power System Stability"
Prof. Sk Abdul Gafoor, Bapatla Engg. College, Bapatla
4th April, 2009
98
ISTE 2017-18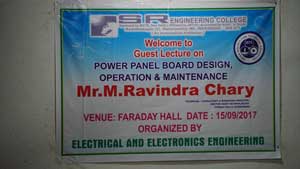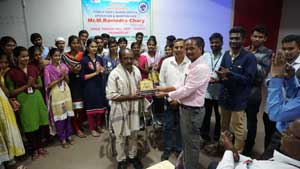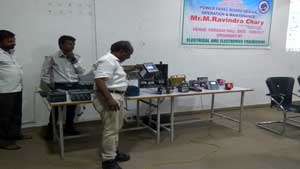 ---