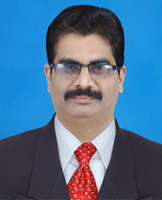 Dr. V. Mahesh
PRINCIPAL ,
SR Engineering College
Dr. V. Mahesh was awarded PhD in the area of Mechanical Engineering from JNT University, Hyderabad and M.Tech course in computer integrated manufacturing from Regional Engineering College, presently National Institute of Technology, Warangal. He joined as faculty of Mechanical Engineering at SR Engineering College in the year 2006 and has been serving the institute since then. He headed the department of Mechanical Engineering during the period 2007 – 2012, as Dean (Research) from 2012 to 2015. In November 2015, he took over as the Principal of the college.
He has more than 20 years of teaching experience and successfully guided many students for their UG and PG projects. One research scholar has completed her PhD and currently he is guiding three scholars. He has two research projects to his credit sponsored by Department of Science and Technology (DST). He has published more than 40 papers in various national and international journals and conferences. He is a reviewer of number of reputed journals in the area of mechanical engineering. His areas of interest include Cognitive Science, Computer integrated manufacturing, Supply chain management and Metal Matrix Composites. He is a Chartered Engineer and Member of The Institution of Engineers (INDIA). He is a life member of Indian Society for Technical Education (ISTE) and International Association of Engineers.
He served as the Chairman, Board of Studies for the UG and PG programmes in Mechanical Engineering at SR Engineering College (Autonomous). He also served as the Member, Board of Studies of Production Engineering, JNTU Hyderabad during academic year 2011-12 & 2012-13.
---