SREC innovative curriculum is designed based on the following 4i's.
Innovation, Creativity & Entrepreneurial Mindset
Industry Relevance
Interdisciplinary Learning
Information Technology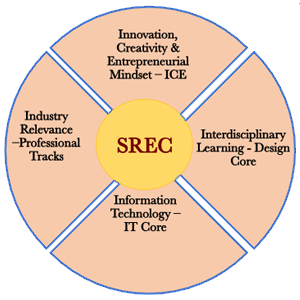 With these core values, the curriculum focused on creating a common core courses that cuts across the departments and promote interdisciplinary team-based learning.
Recognizing the need for more innovative engineers with entrepreneurial mindset, SREC is offering new courses which enable the students to give engineering solutions to real world problems. These courses are multidisciplinary in nature and nurture the creative and innovative skills required for them to be globally competent.
Excellent curricular and extra-curricular activities, coupled with the best infrastructure and faculty helps SREC and its students become highly successful.