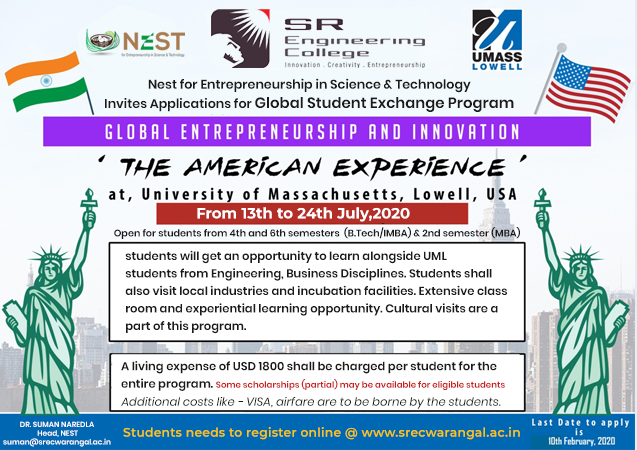 Global Entrepreneurship Education :
SREC NEST, has been engaging students in exchange programs since the year 2018. It started off through collaborating with Manning School of Business, University of Massachusetts, Lowell, USA.
The course, Global Entrepreneurship and Innovation is designed to help students understand the importance of entrepreneurship and innovation in today's global economy, it also helps in cultivating an entrepreneurial mindset, work in interdisciplinary, multi-cultural environments exploring various facets of running a business using standard business model framework and bringing ideas to reality. The Course will require students to work on real life technological projects and evaluate their commercialization potential and opportunities.
The course delivery is purely through experiential learning, as they spend ample time on field activities, solving real time cases, engaging with local organizations and developing or re – defining their existing business models.
The course is taught by US faculty in collaboration with guest speakers from the industry.
SREC is the only institution in Telangana to have an Understanding with University of Massachusetts, Lowell, USA for this most successful Student Exchange Program.
---
Tinker Camp:
The goal is to tinker and Innovate. We know that discovery and experimentation includes making mistakes, but so often trial and error aren't a part of our modern classroom. Colleges often miss teaching the value of problem solving, and students are inadvertently taught to internalize failure. That's what Tinker Camp is all about. It helps students find the joy in success and failure, and hopefully in the process of creating a life-long love for problem-solving and experimentation in every thinker Students from different discipline will be chosen and work together to complete a hands on project. The camp helps different engineering students to know the role of other discipline in completing a project. Campers will also know how engineering can change human living conditions. Tinker Camp is organized for engineering and management students every year.
---
B - Spark (Business Plan):
Do you conceive challenges as opportunities? Do you aspire to be the difference maker? Do you want to solve the problems through unique value propositions and generate revenue? B- Spark is a B Plan Pitching Competition is the platform you are looking for.
Nature is an infinite treasure of miracles. The beauty of nature has influenced designs ranging from that of an airplane to everyday things. One such miraculous action occurring in nature is the transformation of an Idea into a Business. Make in SREC has adopted the same model for entrepreneurial engagement of students. Participation in Make 'n' Market allows the students to develop the spark of entrepreneurship. Make 'n' Market will be followed by other initiatives of Make in SREC, which inculcate entrepreneurial mindset. This stage is of Idea to Business Plan transformation, where the critical growth of the business takes place. B-Spark competition serves as a unique platform for the evaluation, iteration, starting up of the business ideas. The event further leads to incubation.
---